How to Grow Your Practice Under HIPAA's Regulations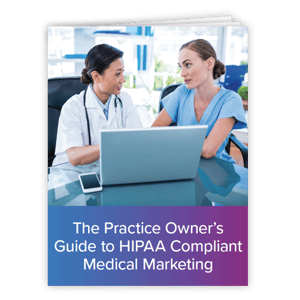 As a practice owner, HIPAA compliance is your responsibility. But how can you juggle your ethical duty to your patients with your need to attract new patients and grow your practice? The answer is HIPAA compliant medical marketing.
However, before you get started you'll need to be familiar with the do's and don'ts of medical marketing and how to make the most of marketing opportunities while abiding by HIPAA's rules. Doing so will ensure you're prepared to develop and implement a successful marketing strategy.

We've put together this guide to help you navigate marketing your practice under HIPAA's regulations. By the time you've finished reading, you'll have a clear idea of how to fine-tune your marketing efforts, while also minimizing the risk of a HIPAA violation that could potentially compromise sensitive patient data.

Fill out the form to download your personal copy!