Integrating New Software into Your Team's Workflow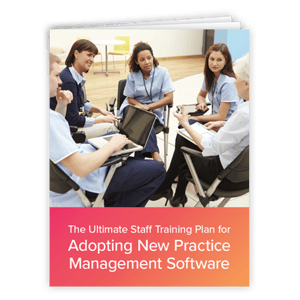 Once you've made the decision to invest in new practice management software, it's in your best interest to do everything you can to make the adoption of it as smooth as possible for you, your staff and your patients.
You might ask yourself: What's the best way to streamline my staffs' training to ensure that they're comfortable with the new practice management software? How can I ensure our patients experience the least amount of disruption possible during the training and implementation process?
By the time you've finished reading, you'll know why employee training matters both during new software adoption and on an ongoing basis – and how to create a robust employee training program that will serve you (and your patients) well.
Fill out the form to download your personal copy!